SHOP PENN Gives Back
SHOP PENN businesses have been giving back in meaningful ways. With the generous help of customers, local partners, and foundations, these businesses are making a profound impact throughout the community. Learn how you can lend a hand in supporting your favorite small businesses and the Philly community at the same time.  Remember, we are stronger together.

Dizengoff/Goldie
100% of net proceeds from CookNSolo Sales other than Federal Donuts – Monday, June 1 through Sunday, June 7 – will go to Philadelphia Lawyers for Social Equity (PLSE), a non-profit legal aid organization that advocates for a mere equitable, just, and educated social environment for low-income individuals with criminal records.

Federal Donuts
Federal Donuts is donating 50% of the net proceeds from National Donut Day (June 5) to the Urban Affairs Coalition @uacoalition. UAC was born in Center City, Philadelphia in the wake of the 1968 assassination of Dr. Martin Luther King, Jr. For over 50 years, the Urban Affairs Coalition, the largest African-American led fiscal sponsor in the country, has been a home for doers and dreamers, including more than 80 Program Partners that work tirelessly to change their neighborhoods and communities.

High Street Provisions
High Street Provisions donated meals to local hospitals as part of the #givephillyeats campaign. Local chefs from all over the city prepared 3,500 meals for healthcare workers. The campaign began when Save Philly Eats and Fuel the Fight partnered up. High Street also donated 50 meals to the VA Hospital through College Together.

HipCityVeg
HipCityVeg has partnered with Philadelphia 76er Shake Milton for the Give Shake an Assist campaign. So far, they have raised enough to donate 2,500 meals to local healthcare heroes. A donation of $10 equals one meal. You can donate and help provide meals to frontline workers by visiting giveshakeanassist.com.

HipCityVeg is also partnering with Support + Feed and several other vegan restaurants throughout Philadelphia to deliver thousands of meals to the front lines of the city's growing economic and health crisis. Some of the organizations that will receive meals in Philadelphia are Black Doctors Consortium, One Day at a Time, PAWS animal shelter, Project HOME, Puentes de Salud, Ronald McDonald House Charities of the Philadelphia Region, and more. 
honeygrow
honeygrow has started the Cater it Forward campaign to help provide meals to healthcare workers, first responders, and essential employees. People wishing to donate meals can place a honeygrow catering order and have it delivered to those fighting on the frontlines. If interested in donating, text "DONATE" to HONEY (466-39) or reach out via http://honeygrow.com/contact-us.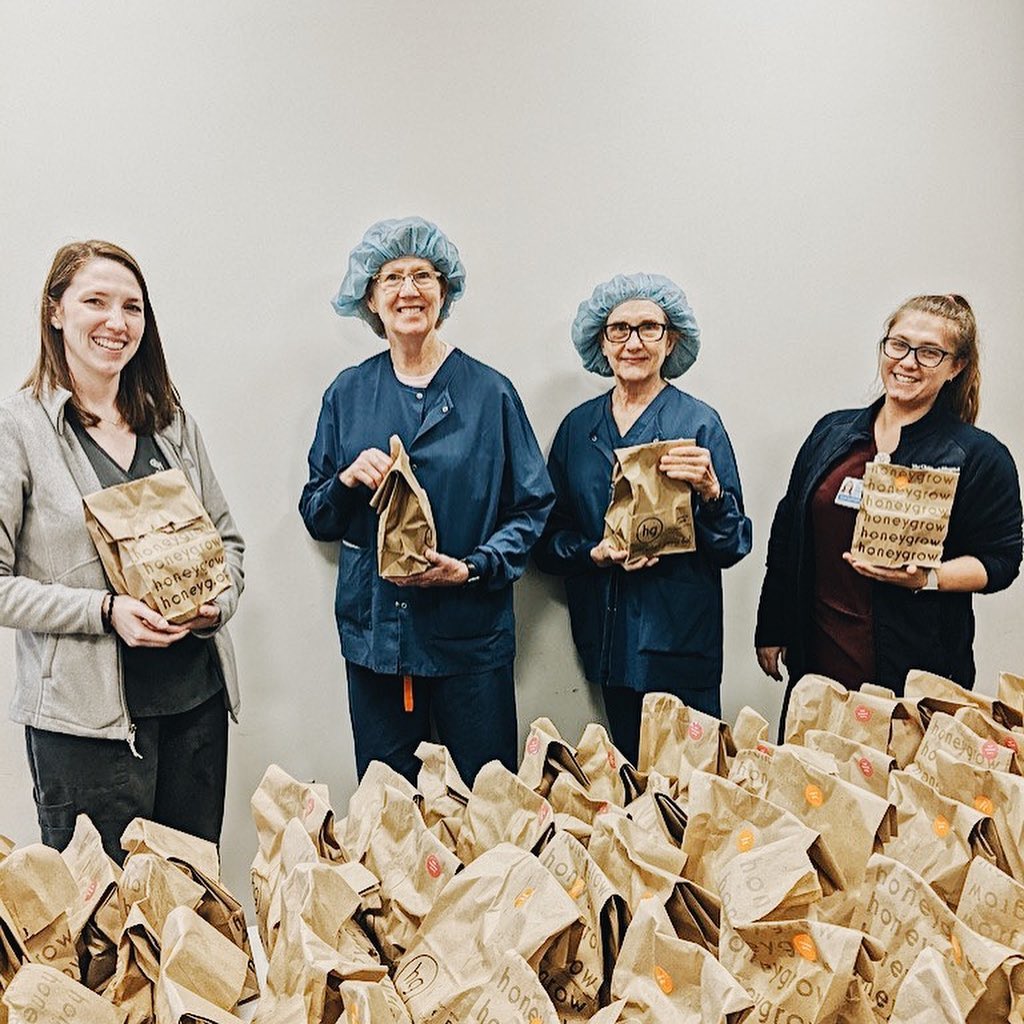 PaperMill Fresh Asian Kitchen
PaperMill Fresh Asian Kitchen has partnered with Tabachoy Philly to hold several popups throughout the city, raising money to then donate meals to healthcare workers on the frontlines. Customers "paid forward" $5 that went to healthy meals which were delivered to professionals at the Hospital of the University of Pennsylvania, the West Philly COVID-19 testing site, and Temple University Hospital.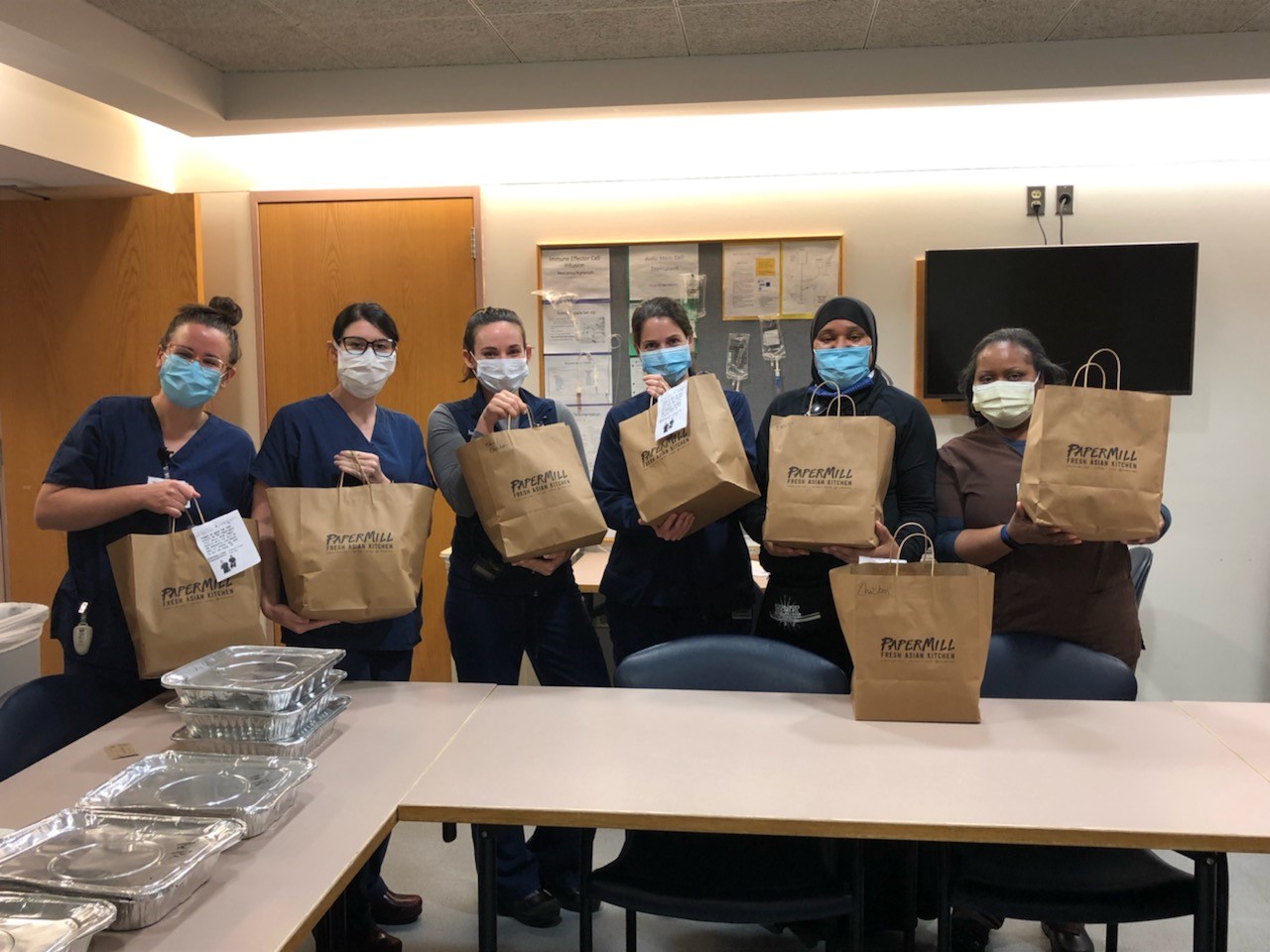 Spread Bagelry
Spread Bagelry has been donating food to frontline workers throughout Philadelphia. They have delivered bagels to workers at the University of Pennsylvania Medical Center, Jefferson Health, St. Christopher's Hospital for Children, Einstein Medical Center, and the Lankenau Medical Center.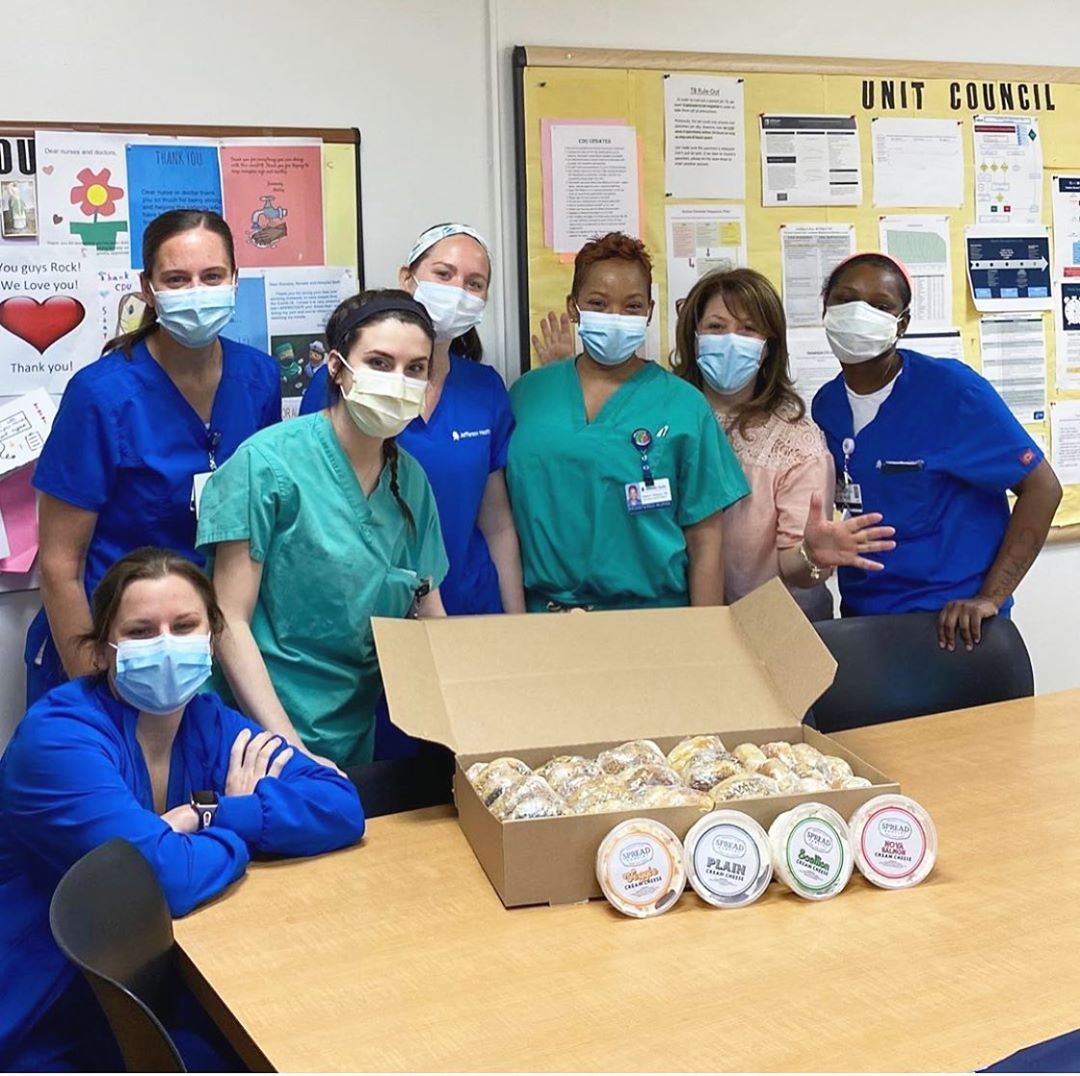 United By Blue
United By Blue is helping to protect the Philadelphia homeless population during this difficult time by donating masks to Chosen 300. For every Salvaged Hemp Blend Face Mask that they sell they are donating one to the Chosen 300, which serves the homeless and hungry by providing meals and other services to those in Philadelphia.