Something for everyone...
Our curated collection of retail offerings provides the highest quality options at every price point.
...in the heart of the nation's most beautiful & historic university campus.
Cool Treats to Beat the Summer Heat
As temperatures spike in Philadelphia, #ShopPenn has all the delicious treats you could want to help keep you cool.
Enjoy a day-to-night shopping, dining & social experience!
Whether you're grabbing a healthy lunch, running errands after work or before class, or searching for something special, we have what you need.
Picnic in the Park(s)
You've got your picnic basket and a free afternoon. We've got the gorgeous green space and grab-and-go fare.
Gear Up and Get Active
After a few stir-crazy months spent mostly indoors, summer in Philadelphia means an endless offering of long, sunny days and the perfect time to get out and be active.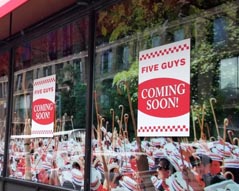 Shop Penn News
Five Guys Is Setting Up Shop In University City
Five Guys will be serving its popular burgers, fries and shakes in its newest Philadelphia location at 3714 Spruce Street, anticipated to open in late Fall of 2021.