PaperMill Fresh Asian Kitchen
Spreading our love of fresh Asian fare.
PaperMill Fresh Asian Kitchen started as a farmers market stall on the beaches of Sydney, Australia in 2016.   It's known for its signature Spurritos, fresh spring roll burritos wrapped in rice paper and filled with a wide choice of proteins, fresh vegetables, and house-made sauces.
After a year of 'slinging Spurritos' out of a tent, Founder Alex Sherack followed his heart, venturing to Philadelphia to open a food truck in the city's burgeoning mobile vending scene.  Since those U.S. beginnings, PaperMill has been a staple at festivals and street fairs in the tri-state area, and known to vend regularly only a few blocks away from their new home, on the corner of 33rd & Market, at The Porch and at Pennovation Works.
Foodies can expect a broad 'Fresh-Asian' inspired menu that includes their famous Spurritos (fresh spring roll burritos), made-to-order bowls, Banh-Mi hoagies, sides and a range of refreshing beverages. Sign up to their loyalty program for great deals.
Card, cash, online ordering (Toast app)
Remember to add avocado or guacamole to your Spurrito, bowl or hoagie. Sign up for our loyalty program for freebies!
You've got your picnic basket and a free afternoon. We've got the gorgeous green space and grab-and-go fare.
Read More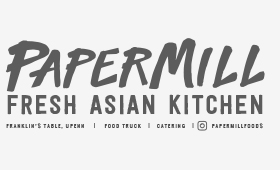 PaperMill Fresh Asian Kitchen
Address
3401 Walnut Street
Philadelphia, PA 19104

267-274-1230
Store hours
Monday-Friday 11am-6pm