SHOP PENN Recipe Roundup with Pitruco's Nathan Winkler-Rhoades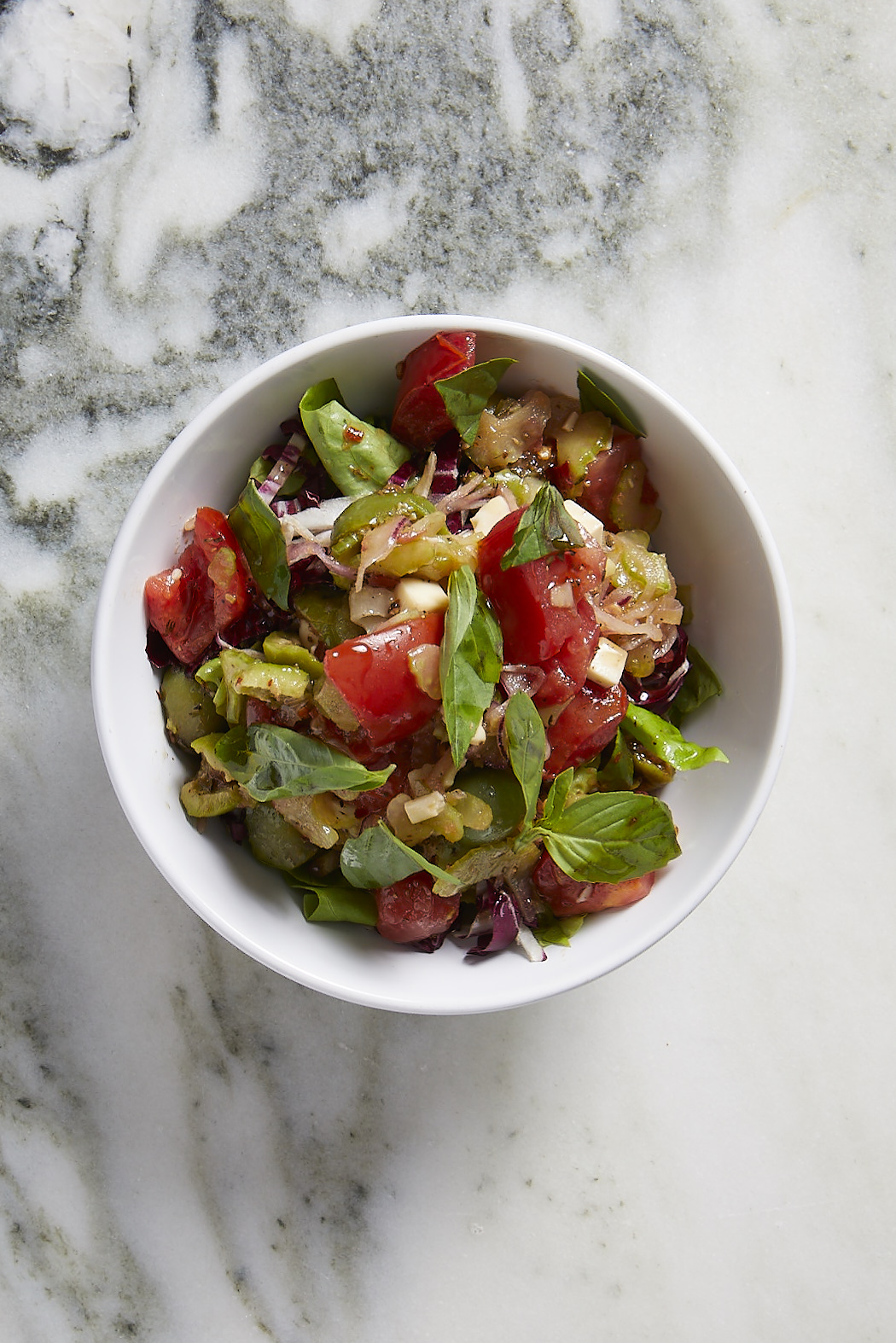 Many people are spending a lot more time cooking at home these days, and SHOP PENN is here to help you shake up dinner time with favorite home recipes straight from the chefs of some of your go-to SHOP PENN restaurants.

Few things pair better with a slice of pizza than a fresh and delicious side salad. Pitruco Pizza co-owner Nathan Winkler-Rhoades has provided us all with his go-to salad, perfect for pairing with a hot out of the wood-oven pie. And if you're in the vicinity of Penn's campus, order up one of their famous Philly's best personal pizzas to accompany your salad, in favorites like savory Sausage, Mushroom medley, or classic Margherita, all made in-house at the home of Franklin's Table.  

According to Nathan …

This is our riff on the classic Italian pizzeria salad featuring salty cheese and olives, sweet tomatoes and crunchy lettuce.  It's our favorite salad to eat with pizza because it creates lots of flavorful juices perfect for soaking up with pizza crust.  It is also a great way to improve out-of-season tomatoes, which come to life after a brief marinade in our dressing.

The Pitruco Salad
serves 4-6
1 head boston/butter lettuce, rough-chopped
1/2 of a head radicchio, sliced thin
6 plum tomatoes
5 large ribs of celery, outside gently peeled to remove fibers
1/2 red onion, sliced thin 
1 pint castelvetrano (green) olives, crushed to remove pits and torn in half
a 1/4 lb piece of sharp provolone, cubed
a handful of basil leaves
1/2 cup vinaigrette, plus more for serving
1. Marinate the tomatoes.
Toss tomatoes, celery, onion, olives and provolone in the vinaigrette.  Allow to marinate at least an hour and up to a day.
2. Assemble the salad.
Toss tomato mixture with the lettuce, radicchio and basil with extra vinaigrette to taste.  Serve immediately.
For the vinaigrette
(makes 1 quart)
1 cup extra virgin olive oil (we like the Frantoia brand)
1 cup neutral oil (canola, grapeseed, etc.)
1 cup red wine or sherry vinegar (we like Beaufort brand)
1/4 cup water
1 lemon, zest and juice
1 large garlic clove, grated
1 tablespoon + 1 teaspoon sea salt
1 tablespoon + 1 teaspoon sugar
1 tablespoon + 1 teaspoon oregano
1 teaspoon ground black pepper
1 teaspoon hot pepper flakes 
First combine liquid ingredients minus oil.  Stir all dry ingredients into the vinegar-water-lemon mixture, stir vigorously, and taste for seasoning (your palate might like a pinch more salt here; the dressing should be very strongly flavored, as it will provide all the seasoning for the salad).  Add oils.  Because there is no emulsifier in the dressing, you should shake vigorously to combine before using.  The dressing lasts indefinitely in the fridge.