Body
'Tis the Season to eat, shop and be merry! This year, not only is the Shop Penn community bringing you the
Fourth Annual
SHOP PENN Days of Deals (Dec 4-15) featuring 12 days of sales and giveaways from our collection of eclectic stores and restaurants around campus, we are excited to announce the first-ever

SHOP PENN Holiday Window Decorating Contest

with shops throughout the district decorating their windows and adding to the festive cheer. Follow SHOP PENN on Instagram, Facebook, and Twitter (@shopsatpenn) for more details.

Check out

SHOP PENN PRESENTS

to find the perfect gift to purchase locally for your holiday list.
Celebrate the season with a

SHOP PENN PLAYLIST

of Holiday Happenings around the district.
SHOP PENN Get to Know: PaperMill's Alex Sherack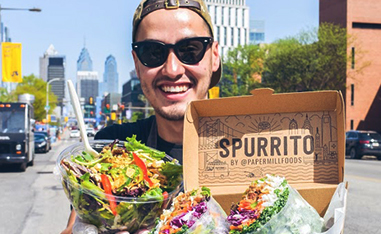 SHOP PENN is more than a destination for an eclectic mix of shops and restaurants set in a uniquely beautiful university setting but also includes a dynamic group of owners and operators who pour their heart and soul into these businesses. In this new series, we will be introducing you to an active member of the SHOP PENN family through our Q&A spotlight.

After several successful years as a food truck in Philadelphia, PaperMill Fresh Asian Kitchen, the creator of the world-famous "Spurrito", opened their first brick-and-mortar location at Franklin's Table Food Hall in early 2020. It has been a labor of love for owner Alex Sherack, who started on the beaches of Australia four years ago. We sat down with Alex to discuss his obsession with spring rolls and his journey following his heart from Australia to the City of Brotherly Love.

Q) How long have you owned and operated PaperMill Fresh Asian Kitchen?

AS) I started PaperMill as a food stall on the beaches of Sydney, Australia in 2016. In 2017, I moved to Philly and started a food truck, and in 2020 opened our first store at Franklin's Table!

Q) How did you get started and what led you to where you are today?

AS) It started with an obsession with fresh spring rolls growing up! I have fond memories of eating fresh spring rolls with the Korean side of my family, sitting around a table socializing and making your own rolls with all the chopped vegetables you can think of, Korean-style proteins like bulgogi beef and a range of Vietnamese sauces. It was hands-on, healthy and most importantly – delicious! I found myself going through obsessive phases by eating it every day, and one day I tried making a burrito-sized fresh spring roll. I called it a Spurrito (Spring Roll Burrito!). I paired this obsession with my studies in accounting and finance and opened a small food stall in Sydney to see if it was something people would be interested in buying. Turns out, it was!

Q) What motivates you to do what you do?

AS) A lot of people ask me: Do you ever get bored of what you do? I've been doing this for four years now, and my passion has not gone away at all. I think my motivation fundamentally stems from three things - my love of the food and sharing that love, having a great team around me, and the continuous learning process that running a business brings.

Q) What do you find to be the most rewarding part about your job? The most challenging?

AS) I think the most rewarding and challenging parts of my job center around people – particularly my staff and customers. Every single day I am rewarded by going into work alongside my staff and serving our food to new and regular customers. One of my favorite memories was spending time with my staff up in New York City at Governor's Ball Music Festival, where we were absolutely slammed at the food truck, saw some world-class acts and were able to bond through all the challenges that came up over the weekend! Our food has also gone as far as being part of some monumental occasions such as our customers' weddings! It's truly rewarding to take our food and create experiences from it. The most challenging part of the job is dealing with things like employee conflicts and ensuring customer satisfaction.

Q) Do you have any key mentors or people who have deeply influenced you?

AS) Over the last four years I've been lucky to have had some amazing family friends and successful food entrepreneurs who have mentored me really helped me navigate through some tough times. My parents and my brother are also key mentors in my life who have helped me get out of some pretty low points in the business. Day-to-day, I find that my fellow food truck owners at our central shared kitchen and other fellow small business owners are a big influence on what I do every day. The way we're all constantly sharing similar struggles, working through challenges and coming up with new ideas continually shapes the way I do things at PaperMill.

Q) How would people in your life describe you?

AS) I think people would describe me as a pretty well-rounded person.

Q) What is your proudest accomplishment?

AS) Opening a shop at Franklin's Table, and having an amazing team working together to make it happen.

Q) What is your favorite thing about Philadelphia?

AS) How welcoming Philadelphians are to Aussies!!!!

LIGHTNING ROUND
Coffee or Tea: Coffee! Although I only started drinking it in the last year. I wish I drank more tea
Best Gift You Have Received: Any thoughtful gift
SHOP PENN Business You Frequent (Besides Your Own): Pitruco Pizza! Best pizza in the game.
Last Song You Downloaded: Sticky Fingers – How to Fly
Favorite Day of the Week: Friday
Go To Guilty Pleasure Food: Sour gummies 
Something You Can't Live Without: My hobbies. Fishing, skateboarding, the beach!
Climb a Mountain or Jump Out of An Airplane: Climb up a mountain, then jump out of a plane!!
Childhood Nickname: "Sherack"
Scale of 1-10, How Good A Driver Are You: Somewhere up there! Driving a food truck on the other side of the road is pretty wild.