SHOP PENN Get To Know: High Street Provision's Ellen Yin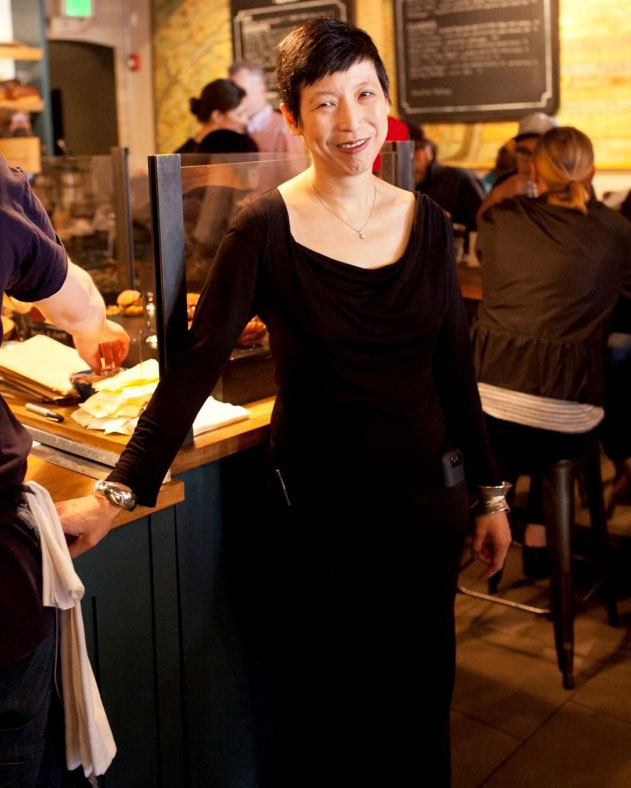 SHOP PENN is more than a destination for an eclectic mix of shops and restaurants set in a uniquely beautiful university setting, but also includes a dynamic group of owners and operators who pour their heart and soul into these businesses. In this new series, we will be introducing you to an active member of the SHOP PENN family through our Q&A spotlight.

High Street Provisions, located in the popular Franklin's Table Food Hall, is one of the best spots in University City for a grab and go breakfast or lunch. High Street prides itself on using locally sourced ingredients for its delicious baked goods, sandwiches and soups. Founder and co-owner Ellen Yin has made it her mission over her years in the hospitality world to bring customers delicious food and sustainable products from area farmers and small producers. We talked with her about her journey, her commitment to sustainability, and her love for the High Street family.

Q) When did you found High Street Hospitality?
High Street Hospitality Group came about after my partner, Eli Kulp, and I opened High Street on Market. Since we began working together, it was a goal to become a hospitality group operating numerous standard-bearing concepts. So when we were approached to operate AKA Rittenhouse Square's a.kitchen and a.bar, we formed High Street Hospitality Group, which then went on to own and operate High Street on Hudson in Manhattan. Together, we founded the company with several tenets in mind: integrity, teamwork, community, learning and creativity and work to incorporate those pillars into everything we do from service to partnerships and collaborations.

In the very beginning, our mission was very simple to help grow the local economy by supporting regional farms and serving the freshest most delicious food in Philadelphia. Today, our mission is and will always be, feeding people exceptional food responsibly and equitably. In the wake of COVID-19, how we go about that mission has changed a little bit. While we have adapted most of our restaurants to offer takeout and delivery during the stay at home order, we have also been heavily involved in feeding frontline workers, the food insecure and those who were negatively impacted by the racial protests. 

Q) How did you get started and what led you to where you are now?
Like so many people in the industry, I got my start when I was in high school working at a neighborhood restaurant. In my case, the neighborhood restaurant happened to be a French restaurant considered by many at the time to be one of the best in New Jersey. I remember walking into the vestibule and seeing tons of glassware and thinking whether my clumsiness would survive this job. Quickly, I overcame that fear and fell in love with the diversity, pace and energy of the restaurant scene. From that point forward, I've been singularly focused on making a mark on the hospitality industry by creating innovative, equitable and sustainable concepts that keep the industry moving forward.

Q) What motivates you to do what you do?
The people — from our wonderful guests that become part of the High Street "family," to our dedicated staff that truly makes everything we do possible. Every decision I make is with these individuals in mind.

Q) What do you find to be the most rewarding part of your job? The most challenging?
The most rewarding part of my job is being able to give back to the local community. All throughout our 23 years of operation, we have prioritized giving back in any way we can. However, we were able to really amplify this effort by feeding over 10,000 meals to frontline workers as well local homeless populations amid the COVID-19 pandemic.

The most challenging part of my job is that during these times especially, things change and develop so quickly. From the approval of outdoor dining a few months ago to the recent indoor dining at limited capacity, the challenge is that these developments happen quickly, and we need to react and pivot swiftly. They also require some sizable changes, from extended outdoor seating, to the protective partitions and equipment needed to do so safely.

Q) Do you have any key mentors or people who have deeply influenced you?
Although hospitality was in my blood, I really had no idea how I was going to be able to fund a restaurant. I went to college and grad school at Penn and among the really great friends I made was my business partner of over 23 years Roberto Sella. Post-graduation many people would leave Philadelphia for New York City or elsewhere for finance jobs. Roberto ended up staying in Philly, and I learned quickly how much he loved wine and entertaining as well. Many dinner parties and bottles of wine later, we agreed that Roberto needed a restaurant to drink his own wine at and a restaurant with a seasonally changing menu that was delicious, warm and welcoming. With about $40,000 from each of us, we found a building in Old City Philadelphia that was wide and with high ceilings. I fell in love with the vacant shell. Our chef-partner at the time, Anne-Marie Lasher, put in $10,000 and we were able to borrow the rest to create an environment that was Fork - a warm neighborhoody New American bistro in 1997. That was just the beginning.  We have had so many friends and family throughout the year who have contributed to making Fork and our subsequent restaurants vibrant neighborhood spots. We couldn't be more grateful for our talented staff throughout the years — so many people have contributed to the growth and improvement of each of our concepts.

Q) How would people in your life describe you?
This is always a tough question to answer. Perhaps driven, a problem-solver and forward-thinking. At least I hope they think these things!

Q) What is your proudest accomplishment?
I sound like a mom, but what I consider my biggest accomplishment is seeing the many people who have successfully grown through my restaurants and have gone on to make their own indelible mark on the industry in Philadelphia and beyond.

Q) What is your favorite thing about Philadelphia?
I love the community here. While I have my own little community of friends, family and business partners, I think everyone has their own little version of that. I also think it can be more difficult to find these little communities in larger cities. That said, I certainly have to call out our ever-growing and evolving dining scene. In 1997 when Fork opened, the Philadelphia dining scene was small and relegated to certain neighborhoods (of which Old City was most certainly not!) but now, some of the best restaurants in the U.S. can be found in the City of Brotherly Love and award-winning destinations are just around the corner.

Lightning Round
Favorite Television Show: Chef's Table or the Crown
Last Book You Read: Lisa Donovan's Our Lady of Perpetual Hunger
Favorite Thing to Do In Free Time: Biking, travel
Hidden Talent: Photographic memory
If You Could Live Anywhere Where Would You Choose: Philadelphia with a pied-à-terre in Rome or Paris!
SHOP PENN Business You Frequent (Besides Your Own): Modern Eye - they have the best eye glasses!
Something You Can't Live Without: Carbs - all kinds - from pasta, bread, rice, potatoes! 
What Did You Want to Be When You Grew Up:  A teacher, architect or restaurateur
Coffee or Tea: Coffee!
Are You A Clean or Messy Person: Clean from a maintenance perspective, but messy, as in I have a lot of stuff. But I know exactly where everything is.