SHOP PENN Recipe Roundup With PaperMill's Alex Sherack
Many people are spending a lot more time cooking at home these days and SHOP PENN is here to help you shake up dinner time with favorite home recipes straight from the chefs of some of your go-to SHOP PENN restaurants.

PaperMill Fresh Asian Kitchen is the newest member of Franklin's Table, providing a fresh twist on Asian favorites. Now owner Alex Sherack has made it possible to enjoy fresh Spring Rolls at home with his Rice Paper Roll Kits. These DIY kits will make for a fun and delicious dining experience. They are available for next day delivery or for curbside pickup at Franklin's Table (3401 Walnut St) Monday through Friday between 11am-2 pm.

According to Alex…

I'm delighted to share with you something that's changed my life – a love of fresh spring rolls. Fresh spring rolls and rice paper are traditionally Vietnamese, and I grew up eating them in Australia with my mum's Korean twist, with things like bulgogi beef, spicy pork and tofu!! It's a meal my Korean side of the family would eat on special occasions – imagine a dinner table filled with plates of cut vegetables (every vegetable you can think of), proteins, an array of sauces. It was build your own rolls, mix and match all the ingredients, and eat till you drop! By the end of this meal, I hope you've learned a new skill! Trust me, you'll be craving these as much as I do (still to this day!)

Alex Sherack's Spring Rolls
Ingredients:
- Bulgogi beef
1lb sliced beef (Ribeye is best! But any sliced cut of beef works for this)
1/2 apple or pear, blended
1/4 cup light soy sauce
2 tablespoons brown sugar
2 tablespoons sesame oil
3 cloves minced garlic
1 tablespoon freshly grated ginger
1 teaspoon toasted sesame seeds
2 green onions, thinly sliced
- Vietnamese dressing (Nuoc Cham!)
4 tbsp water
2 tsp sugar
1 tsp rice vinegar (white vinegar works too)
2 tsp fish sauce
Squeeze lime juice
Chopped garlic
Chopped chili (optional for heat)
- Peanut hoisin sauce
1 tbsp peanut butter (crunchy is best!)
1 tbsp hoisin sauce
Add chopped garlic, ginger
1 tbsp sriracha (optional for heat)
Add small amount of water to adjust consistency
- Chop vegetables
lettuce, cabbage, carrot, red peppers, jalapenos, red onion, pineapple, mint, cilantro and others

Steps
Fill up a medium-sized bowl with lukewarm water.
Dip rice paper so both sides are wet – shake off excess water and place it on a plate.
Add some ingredients onto the rice paper! The key is to add a bit of everything, and not too much of one thing. My brother habitually ate all the protein, don't be like him. DO NOT ADD SAUCE at this point. Add it once rolled.
You'll notice the rice paper starting to soften. Once it is malleable, begin to roll following the directions below.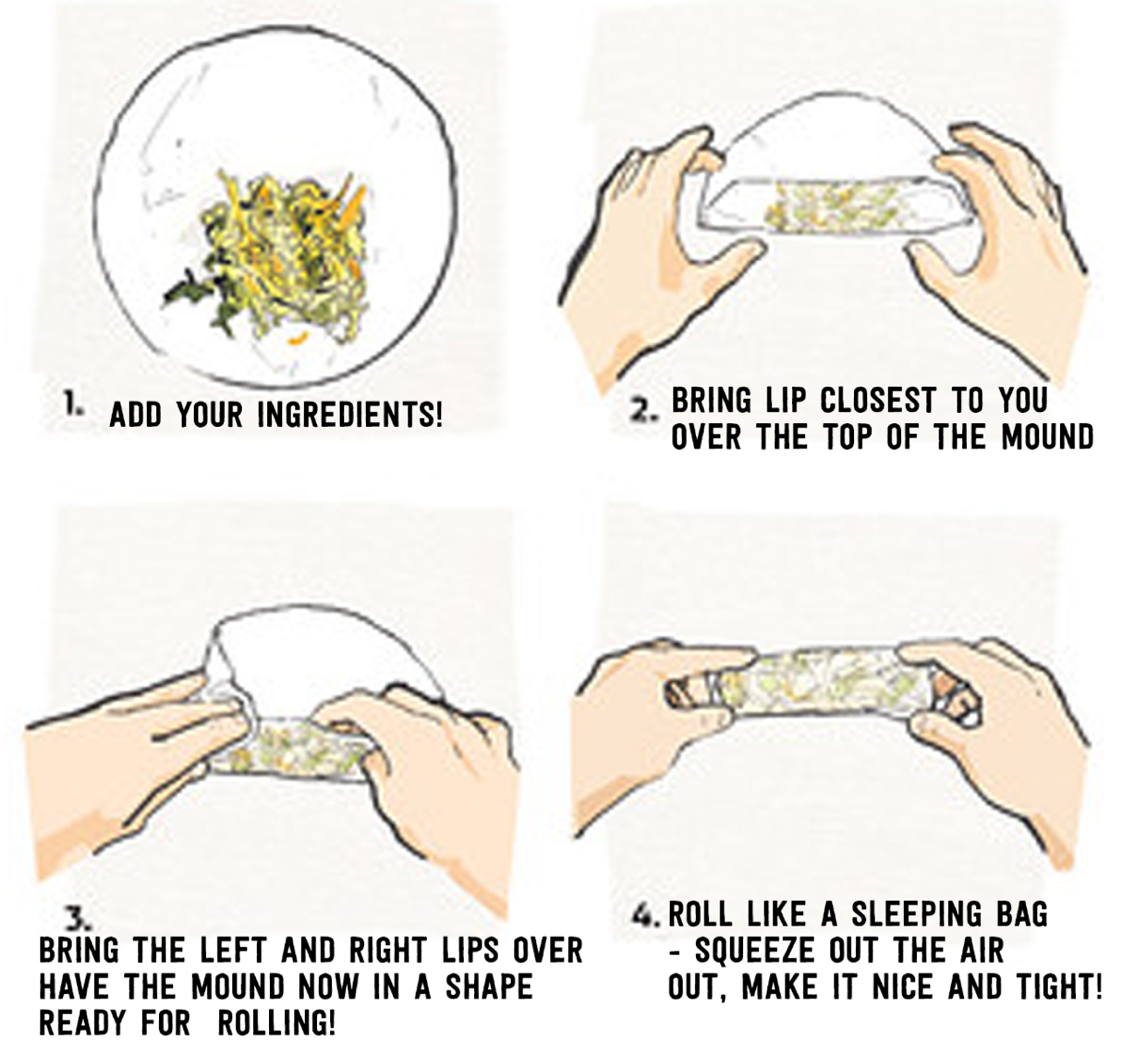 Now you've got the rolling down, keep the rice paper in the pantry for your next easy & healthy lunch. Use leftovers – grab that cold chicken cutlet, a leftover salad to repurpose, slice up a carrot and cucumber. Even better – have a 'rice paper party!' Chop up a bunch of vegetables, have some mates over (AFTER COVID), and eat them exactly the same way my Mum showed me.