SHOP PENN Playlist for October
There is nothing like Fall in University City! The leaves turn, the air gets chilly, and there are so many things to do and see. Whether you enjoy sports, art, or music, this is the place to be! The "Shop Penn Playlist" is a snapshot of the top events being offered by institutions, organizations, and venues throughout the district this month.

Discotopia – The Rotunda
October 6

Discotopia hosted by Icon Ebony Fierce will feature DJs Particle Ray and Alexoteric spinning funk disco and boogie. Icon Ebony Fierce is a Philadelphia born and based performance artist that has one mission: to change people's perception of artistic expression one subculture at a time.

Viernes Calientes Dance Party w/DeTierra Caliente – World Café Live
October 7

Put on your dancing shoes and head to The Lounge for the free First Friday series, Viernes Calientes. Get ready to drink, dine, and dance the night away with live music from Philly fusion band De Tierra Caliente. De Tierra Caliente is a party band whose music fills the air with bright colors and gets everybody up and dancing. Catchy melodies and unaffected lyrics fuse with Latin, Caribbean and Brazilian rhythms to inspire an irresistible North/South American party.

Pilobolus – Penn Live Arts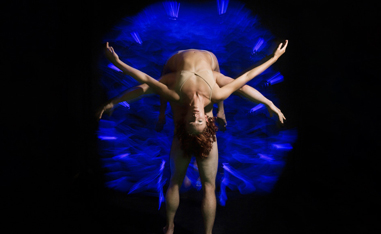 October 7-8

Pilobolus celebrates 50 years of radical creativity and boundary-pushing art with Big Five-OH!, a remixed retrospective of signature works from vintage classics to current innovations. It's the Pilobolus you've grown to love, with wit, sensuality and stunning physical acumen, put on a sideways tilt as the company looks to the future and tests every limit.

Club de Vin: French Wine Regions – Louie Louie
October 11

Since you cannot all go to Paris, Louie Louie is bringing France to you! Fly into Paris, then hop in the car, arrive at Champagne, drive your way through the major wine regions: Alsace, Burgundy, Loire Valley, Rhone, and Bordeaux. Explore the terroir that has inspired winemakers from all over the world, and the magic of wines made in ancient vineyards.

Philly Music Fest – World Café Live
October 12

Philly Music Fest is a non-profit Festival taking place throughout the city benefiting musicians and kids. World Café Live will host Low Cut Connie, Ron Gallo, Lady HD, Kayleigh Goldsworthy and Perpetual Motion on its two stages. One ticket gets you entry to all performances in The Lounge and the Music Hall.

Alice and John: A Coltrane Festival – Penn Live Arts
October 12-23

Alice and John Coltrane are jazz royalty. The Coltrane Festival explores the immense impact this duo had on American music, with an exciting emphasis on Alice's significant and often underrepresented contributions. With rising star saxophonist Lakecia Benjamin serving as Artistic Advisor, we showcase John's bebop, free jazz and spiritual enlightenments alongside the more abstract sounds and Eastern influences of Alice's compositions. World premieres, Penn Live Arts commissions and an impressive line-up of artists bring the timeless music of the Coltranes into the present day.

Penn Football – Franklin Field
October 15, October 22

The Quakers opened the season with back-to-back home wins over Colgate and Lafayette and return to historic Franklin Field to take on Ivy League rivals Columbia and Yale on October 15 and 22.

WXPN 5K Run for Musicians On Call – Penn Park
October 16

Grab your running shoes and some friends and head to Penn Park for a 5k Run or a Funky Miler Walk. Since 2014, the annual WXPN 5k Run has been the primary event to raise much-needed funds for WXPN Musicians On Call which brings musicians to the bedsides of patients in the Delaware Valley. In 2020, Musicians On Call expanded its virtual programs to reach more patients and caregivers during the pandemic and was one of few charities able to continue providing programming directly to hospitals over the last 2+ years.

Culturefest! Dia De Los Muertos – Penn Museum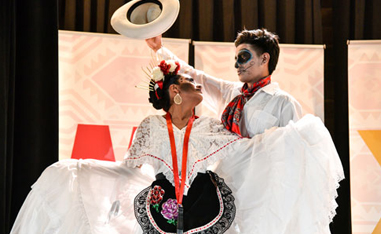 October 29

This full-day festival offers fun for the whole family, including an arts activity, altar competition, artisan market, dance and music performances, and an enormous traditional Ofrenda (altar) installation by the Mexican Cultural Center. Día de los Muertos, or Day of the Dead, is a lively holiday blending Indigenous Mexican beliefs and traditions with the Catholic celebrations of All Saints' Day and All Souls' Day. With roots in rituals dating back 3,000 years to pre-Columbian Mesoamerica, Día de los Muertos is observed across Latin America and in Latino communities worldwide.

Bela Fleck & Abigail Washburn – Penn Live Arts
October 30

Hailed as "the king and queen of the banjo," (Paste Magazine) sixteen-time Grammy® Award-winner Béla Fleck returns to our stage alongside his wife, fellow banjoist and singer Abigail Washburn. Fleck is the world's premier banjo player, known for his eclectic mix of bluegrass and jazz, while Washburn marries folk traditions with far-flung Eastern influences. Together, their sound is familiar yet wildly innovative and on stage, their artistry and chemistry results in a picking partnership unlike any on the planet.