SHOP PENN Playlist for November
The tricks have been treated and the holidays are right around the corner, but University City is still alive and hopping with things to do. Whether your love is history, art, music or sports, there is something for you! The "Shop Penn Playlist" is a snapshot of the top events being offered by institutions, organizations, and venues throughout the district this month.

Legacy on Broad – Penn Live Arts
November 13

Legacy on Broad is the largest Bollywood-fusion dance competition on the east coast. The stage  is laid out for fusion dance teams from all over the nation to share a story and give it their all to leave their dance legacy in the city of Philadelphia. Ten teams will come together on one stage to battle for the first-place trophy! Legacy not only provides dancers the opportunity to showcase their talents but also raises awareness for important causes in the world. This year Legacy has teamed up with Sharing Excess. Together in this partnership, we will help reduce food waste and support Philadelphia's food-insecure communities. Come watch the best of the best college dance teams from across the nation compete for a spot at nationals!

Writing Workshop with Levi Bentley – Arthur Ross Gallery
November 13

This writing workshop will encourage attendees to engage directly with the art works in God Complex: Different Philadelphia, and the program will be held onsite in the Arthur Ross Gallery. Levi Bentley is a 2019 LAMBDA Literary Fellow, and 2017 Leeway Art and Change grantee. They live in Philadelphia where they design and co-edit Asterion press with Ted Rees. They have released chapbooks through Lamehouse, Damask, and Well Greased Press. Poems have appeared in Apiary, Bedfellows, BlazeVOX, Emerge: 2019 Lambda Anthology, We Want It All: An Anthology of Radical Trans Poetics from Nightboat Books, and a number of other venues.

Penn Basketball vs. Lafayette – The Palestra
November 16

College basketball is back at the world-famous Palestra! The Quakers open their home slate against in-state opponent Lafayette on November 16. Penn was unable to compete last season due to COVID and is back in action this season. The team is led by Ivy League Player of the Year candidate Jordan Dingle and forward Max Martz. The Quakers are expected to compete for the Ivy League title in 2021-22 under head coach Steve Donahue. The head coach previous led Penn to the title in 2018, his fourth Ivy League title after winning three straight with Cornell in 2008-10.

Out of the Beardspace/Snacktime Philly – World Café Live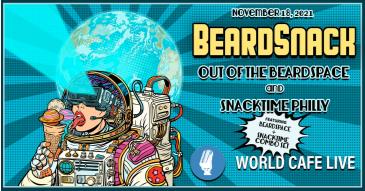 November 18

In a psychedelic explosion of sound and color, Out of the Beardspace expresses its wide range of emotions. Sections of improvisation flow seamlessly in and out of compositions which fuse rock, jazz, pop, funk, and more into a Beardly Beast that will certainly move you. SNACKTIME is the party you wish you were at. Amazing food, delicious drinks, and booty shaking music all at your service. With years of experience in the music, food, and beverage worlds, they live to create a unique and unforgettable event catered towards your wildest dreams.

Penn Football vs. Princeton – Franklin Field
November 20

There are few things better than a rivalry college football game on Thanksgiving week! It's the last chance to cheer on the Quakers at Franklin Field this year as Penn hosts the Princeton Tigers. The Quakers will try and even the all-time series with Princeton and avenge a road loss to the Tigers last season.

Tuesday Trivia at World Café Live hosted by Chris Fish – World Café Live
November 23

Round up your cleverest friends and join us in The Lounge once a month for Tuesday Trivia hosted by Chris Fish! Questions will cover a variety of general knowledge topics. Plus, you can win prizes like WCL gift cards and concert tickets! Admission is FREE and first-come first-served at the door, but you can RSVP in advance to reserve your spot. Teams may consist of up to 6 people. The Lounge opens at 6pm and trivia starts at 8:30pm.

Maddie Poppe's Acoustic Christmas – World Café Live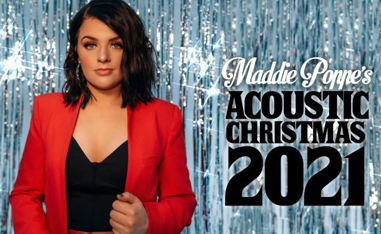 November 30

Maddie Poppe is a 23-year-old singer-songwriter from Clarksville, Iowa and Season 16 winner of American Idol. Maddie's sophomore album Whirlwind reached #2 on the iTunes Pop charts and her hit single "Made You Miss" earned #19 on the Hot AC Radio charts. Hoping to brighten the 2020 holiday season, Maddie released a holiday EP aptly titled Christmas From Home on November 20th and embarked on a near-sold out acoustic Christmas tour. This November, Maddie will return with her Acoustic Christmas Tour.

Great Lecture Series: Emiliano Zapata From Many Angles – Penn Museum
December 1
Emiliano Zapata, the Mexican revolutionary general, is known for his varied and passionate pursuit of justice. He famously drafted the Plan of Ayala (1911), which declared President Francisco I. Madero incapable of fulfilling the goals of the revolution and outlined agrarian reforms to distribute land in a fair and ethical manner. This lecture will address the political and cultural heritage, symbolic representation, and contemporary presence of Zapata throughout his life and up to the present day.