SHOP PENN Playlist for May
Spring is the perfect time to get out of the house and enjoy everything that the City of Brotherly (& Sisterly!) Love has to offer. There is something for everyone including history, dance, music, and outdoor festivals. #ShopPenn is here for you with all the best exhibits, events, and shows to check out throughout the month of May. Find out everything happening with the latest edition of the "Shop Penn Playlist," a snapshot of the top events being offered around the Penn campus all month.

West Philly Spring Zine Fest – The Rotunda
May 6

Organized by Philly Soapbox, The West Philly Spring Zine Fest will feature over 50 vendors. A Zine is a self-published booklet or magazine with small circulation. Since zines are self-published, readers can get a more candid perspective of the author's thoughts than they could in a major newspaper or magazine. Admission to the event is free to all.

Sustainable Saturday – Penn Museum
May 6

Part of the Seeds of Change series, Sustainable Saturday is a day for families to celebrate the earth, where kids and adults can connect to the natural world. Learn about respect for the earth from Indigenous cultures. Listen to a story about protecting our natural world. Bring a children's book from home for a book exchange. Other activities include making seed packets for your garden and creating artwork using recycled materials.

Antibalas with Arthur Thomas and the Funkitorium – World Café Live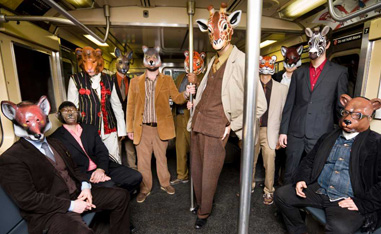 May 17

It's hard to believe that more than twenty years have passed since Antibalas's humble beginning as a neighborhood dance / protest band in the block parties and underground parties in pre-gentrified Williamsburg, Brooklyn. Over the past two decades they have evolved into what The Guardian called "one of the world's finest Afrobeat bands" while enjoying equal renown for their cross-genre collaborations with legends of popular music.

Indigo and Shibori Dyeing Workshop – Penn Museum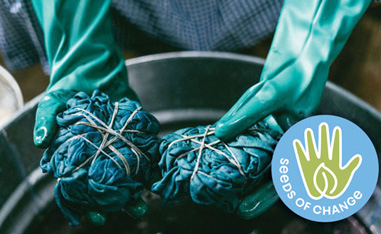 May 20

Fast fashion and textile waste is a large contributor to the climate crisis. Join Penn Museum as they explore ways to reduce the environmental impact of the clothes we wear. In this workshop, textile designer Melanie Hasan shares an age-old technique for creating eco-friendly sustainable fashion. Shibori, from the word shiboru (to wring or squeeze) is a Japanese tie-dye technique dating back to the early 8th century. In this workshop you will learn how to use traditional Japanese resist techniques and fabric manipulation, dye three cotton handkerchiefs, maintain an indigo vat and wash and care for naturally dyed textiles.

JJJJJerome Ellis on Long Take – Institute of Contemporary Art
May 20

Artist and proud stutterer, JJJJerome Ellis, offers an improvised movement and musical piece in response to Carolyn Lazard: Long Take. The performance is an offering of gratitude to Carolyn for their work considering the aesthetic and material dimensions of dependency, care, and access. JJJJJerome Ellis is an animal, artist, and proud stutterer. Through music, literature, performance, video, and photography, he researches relationships among blackness, disabled speech, divinity, nature, sound, and time.

Philadelphia Children's Festival – Penn Live Arts
May 20-23

The Philadelphia Children's Festival returns for another year at Penn Live Arts and features an exciting array of professional performances for the whole family, including a sensory-friendly show that offers a welcoming and comfortable experience for all. Plus, enjoy the outdoor PLAYground with hands-on activities and two FREE performances.

First Person Arts Storyslam – World Café Live
May 23

Before you move on to enjoying the summer sun, join World Café Live for sizzling and thrilling stories about Moving On. All told by you! Live on stage. Tell us all about where you've been, where you're coming from, or even that time you told someone to keep it moving. Join WCL for Philly's ORIGINAL StorySlam when audience members become on-stage storytellers, telling true, personal stories. Host Chris Lundy will present 8 storytellers from our audience volunteers.

Sun Ra Arkestra: Marshall Allen Birthday Celebration – World Café Live
May 27

The Sun Ra Arkestra has been hailed as one of the greatest big bands of all time, and their maestro Marshall Allen will be celebrating his 99th "earth arrival day" this year! Though the iconic Sun Ra left the planet in 1993, his cosmic legacy is proudly maintained by the interstellar sounds of the Sun Ra Arkestra, which now operates under the direction of alto saxophonist Marshall Allen. With a massive, joyous songbook and the kind of well-organized chaos that sees their legendary two-hour sets move deftly between rolling grooves, sing-along chants, and atonal blasts of mischievous brass, the Arkestra remain one of the most unmissable live acts today.

At the Source: A Courbet Landscape Rediscovered – Arthur Ross Gallery (LAST CHANCE)
Closes May 28

An exhibition sparked by the discovery of a Gustave Courbet painting of the source of the French river Lison in the University of Pennsylvania's collection, At the Source: A Courbet Landscape Rediscovered showcases the infamous painter's modern landscape practice. Focusing on the motifs of grottos and waterfalls in his art of the 1850s and 1860s, the exhibition highlights the newly re-discovered Courbet painting, not shown in public for close to 100 years, emphasizing the process of authenticating and conserving this historic work.