SHOP PENN Playlist for March
March means that Spring is around the corner so now is the time to get out there more and enjoy everything University City has to offer. As you fill out your calendar this month, #ShopPenn has all the best exhibits, events, and shows to check out throughout the district. Find out what's happening with the latest edition of the "Shop Penn Playlist," a snapshot of the top events being offered by institutions, organizations, and venues on and around campus all month.

Team Philly Race Training – Philadelphia Runner
Saturdays

TEAM PHILLY Race Training was created to support the Philadelphia area's beginner to intermediate runners in their aspirations of improving their running and living healthier lives. Powered by Philly legends Philadelphia Runner and The Rothman Institute, this comprehensive and unparalleled program includes: running coaching, training plans, group runs, and workshops on topics such as fitness cross-training and strength conditioning, gear, sports psychology, and injury prevention and treatment. Training runs take place every Saturday originating from the University City Philadelphia Runner location.

Monte Carlo Purim Masquerade – World Café Live
March 6

Join 100s of Young Professionals & Grad Students for the wildest Purim party in the Tri-state Area! Enjoy live music, a Monte Carlo-style Casino, and costume contest. The event includes musical performances by Yosef David & Supa Vilda with special guests including Aryeh Shalom, J-Baum, and The Mystic Mayhem.

Spring 2023 Opening Celebration – Institute of Contemporary Art
March 10

The Institute of Contemporary Art invites you to come and celebrate the opening of the Spring exhibition season which is comprised of the exhibitions Terence Nance: Swarm and Carolyn Lazard: Long Take. The reception will include remarks from the artists, refreshments, music and activities all in collaboration with Philly-based vendors. Terence Nance: Swarm is the first solo museum presentation dedicated to the artist's genre-defying and innovative practice. The exhibition highlights the artist's experimentation in film, video, television, sound and performance during the ten-year period spanning 2012 to 2022. Carolyn Lazard works across mediums to explore the relationship between dependency, care, and debility. Their work questions how dominant ways of art-making and working value efficiency and ability over life itself.

Armageddon 2023 – The Rotunda
March 10

Armageddon 2023, a dance event hosted in Philadelphia once a year by Mr. Windz and Mr. B Eazy with a prize consisting of $1000. It provides a great opportunity for dancers to network and connect with one another. There are two categorized battles consisting of All styles and Bboying/Breakdancing. It gives dancers of all skill levels a chance to show their best moves and have lots of fun.

19th Annual World Café Live Beer Fest – World Café Live
March 11

An event for the craft connoisseurs – and not just beer! You'll get to try unlimited samples of cider, seltzers, canned cocktails, and beer without the long lines or packed crowds. Your ticket also includes a variety of delicious small plates from Executive Chef Rob Cottman. Oluwafemi will provide the tunes. Keep an eye out for old favorites and discover exciting new offerings. WCL will be pouring seasonals, staples, and rarities from over 30 local, national, and international breweries throughout all three levels of the venue. Don't forget to head upstairs to The Lounge to spin the WCL prize wheel for your chance to win concert tickets, swag, and more.

Legacy on Broad – Penn Live Arts
March 11

Legacy on Broad is the premier Bollywood-fusion dance competition on the east coast. Join us as ten elite college dance teams from across the nation take the stage to showcase their exceptional talents, passion and dedication to dance. Witness the fierce competition as they battle for the coveted spot at nationals and the chance to be crowned the reigning champions of Legacy on Broad 2023.

CultureFest: Celebrate Women Artists and Creatives – Penn Museum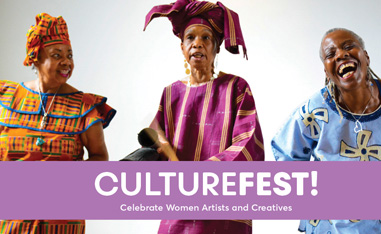 March 11

Join Penn Museum in celebrating the artistic power and creative diversity of women artists and visionaries from around the world! In the tradition of CultureFest's daylong festivals, filled with live performances, storytelling, hands-on workshops, plus an artist marketplace, this March edition pays homage to Women's History Month by raising up often overlooked contributions of movers and shakers across cultures, communities, and all throughout history.

The Women's Coalition for Empowerment, Inc. presents the Creatives Chat Series 2023 – The Rotunda
March 12

The Creative Chat Series is a pop-up series of curated discussions infusing creative industry topics, best practices, networking, and live music. Moderated by Shekhinah B. , author of the Art Economic Empowerment Workbook, an artistic multihyphenate, arts administrator, Edutainer, and vocal performer. Artists from every discipline are welcome to attend. This event will be an open dialogue between attendees and the moderator, a judgement free zone to explore innovative approaches towards creative freedom.

Laughing But Very Serious – World Café Live
March 15

"Laughing But Very Serious" (LBVS) is a comedy/musical event highlighting some of the best comedic talent to come out of the Philadelphia area. This hilarious group of headliners have each been featured on numerous comedy and network platforms including Comedy Central, MTV, HBO, and more. In addition to the laughs, there will be grown and sexy vibes from a live band and special musical guest, Re-Mus.  The lineup of comics includes Anthony Moore, Chanel Ali, and Lamarr Todd.

Cirque: Flip Fabrique – Penn Live Arts
March 25

Can a woman play football? Can a man wear a dress? Yes! Canada's visually stunning cirque troupe, FLIP Fabrique, explores what it means to be your true self in Muse. Known for offering "acts that don't seem humanly possible," (The New York Times) this Philadelphia premiere defies gravity as the acrobats challenge themselves physically while also playfully slipping between traditional gender roles. Whether in high heels or shoulder pads, the ensemble celebrates individuality, offering an inspiring and fresh take on circus and societal expectations.

Ancient Alcohol Tour and Wine Tasting: Eastern Mediterranean Wine Mashup – Penn Museum
March 26

How similar is the wine that we drink today to the wine that people enjoyed in an ancient crossroads of cultures 4,000 years ago? In the latest edition of Penn Museum's popular Ancient Alcohol series, experience a wine tasting like you've never experienced before, paired with an intimate interactive tour of the Museum's newly-opened gallery, highlighting human ingenuity from the Eastern Mediterranean! This region, which today includes Israel, the Palestinian Territories, Jordan, Syria Lebanon, and Cyprus, was a cosmopolitan hub of diverse cultures, where innovations like the world's first alphabet were born—and it's where we will begin our spirited journey, as we drink our way through ancient history!