Body
'Tis the Season to eat, shop and be merry! This year, not only is the Shop Penn community bringing you the
Fourth Annual
SHOP PENN Days of Deals (Dec 4-15) featuring 12 days of sales and giveaways from our collection of eclectic stores and restaurants around campus, we are excited to announce the first-ever

SHOP PENN Holiday Window Decorating Contest

with shops throughout the district decorating their windows and adding to the festive cheer. Follow SHOP PENN on Instagram, Facebook, and Twitter (@shopsatpenn) for more details.

Check out

SHOP PENN PRESENTS

to find the perfect gift to purchase locally for your holiday list.
Celebrate the season with a

SHOP PENN PLAYLIST

of Holiday Happenings around the district.
SHOP PENN Playlist for March
March means that Spring is here so now is the time to get out there and enjoy everything University City has to offer. As you fill out your calendar this month, #ShopPenn has all the best exhibits, events, and shows to check out throughout the district. Find out what's happening with the latest edition of the "Shop Penn Playlist," a snapshot of the top events being offered by institutions, organizations, and venues on and around campus all month.

Womynsfest #22 pres. by Vitamin D Productions – The Rotunda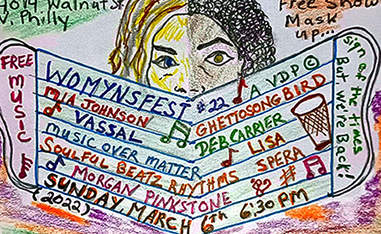 March 6
Vitamin D Productions presents the 22nd Womynfest, showcasing crowd favorites and newcomers alike! Womynsfest is the longest-running free festival for womyn in Philadelphia. It is an all age showcase of womyn performers. Featuring: Mia Johnson, GhettoSongBird, Vassal, Deb Carrier, Music Over Matter (Soulful Beatz Rhythms), Lisa Spera, Morgan Pinkstone, and more!

Circa Humans 2.0 – Penn Live Arts
March 11-12

Australia's bold, contemporary circus troupe, Circa, makes an exhilarating return with a new love letter to humanity, following their smash hit, Humans, which had its U.S. premiere on our stage in fall 2018. Offering "spellbinding physical drama, with just the right amount of play, death-defying tricks and whimsical imagery," (The Conversation, Australia) Humans 2.0 is a joyous, searching production where 10 performers find redemptive power in strength, sharing a much-needed message of hope for our pandemic-weary world. "Circa lives up to their reputation for the astonishing in Humans 2.0," (The Sydney Morning Herald) pushing the boundaries of what circus and acrobatics can be in this thrilling Philadelphia premiere.

Slambovian Circus of Dreams – World Café Live
March 13

A rootsy rockin' psychedelica, The Slambovian Circus of Dreams have been expanding the borders of the Americana genre with their fantastic stories and performance since the late 90's in Sleepy Hollow, New York. Their connection with audiences at shows taps into a greater human-ness and captivates with charismatic band leader Joziah Longo center ring presiding.

Artist Talk with Shirin Neshat – Arthur Ross Gallery
March 15

Shirin Neshat, renowned artist and filmmaker, will present the sixth annual Susan T. Marx Distinguished Lecture. Shirin Neshat is an Iranian-born artist and filmmaker living in New York.  Neshat works and continues to experiment with the mediums of photography, video and film, which she imbues with highly poetic and politically charged images and narratives that question issues of power, religion, race, gender and the relationship between the past and present, occident and orient, individual and collective, through the lens of her personal experiences as an Iranian woman living in exile.

RAW Académie at ICA: Infrastructure – ICA
Exhibit Opens March 16

Based in Dakar, Senegal, RAW Académie is a residential program for the research and study of artistic and curatorial practice and thought that is rooted in the question: "How do we learn from each other?" For the ninth session of its Académie, RAW will relocate its staff and organization to Philadelphia in an experiment in institutional exchange, alternative pedagogy, and hospitality. The session, Infrastructure, is directed by artist, curator, activist, and filmmaker Linda Goode Bryant. Over the course of seven weeks, Goode Bryant will work to reimagine the possibilities for an alternative arts infrastructure with an interdisciplinary roster of visiting faculty.

Rennie Harris: Lifted – Penn Live Arts
March 18-19

Rennie Harris, "the most brilliant hip-hop choreographer in America," (The New Yorker) returns with the Philadelphia premiere of LIFTED. This evening-length, hip-hop theatre production merges the rhythms of house music with the moving vocals of a live gospel choir to explore community and spirituality through dance. Loosely based on the story of Oliver Twist, LIFTED follows a young black man from trouble to triumph as he is ultimately saved by his church family. "Joyous music and dance" (The Chicago Tribune) abound in this epic, hip-hop narrative.

CultureFest! Nowruz – Penn Museum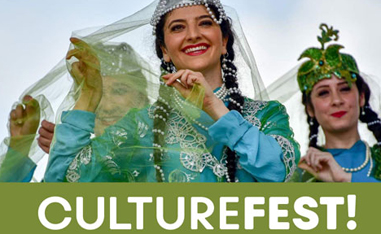 March 19

CultureFest! celebrates the diversity of our region through tours, performances, discussions, crafts, and more. Let new beginnings bloom this spring with a Nowruz celebration, in collaboration with the Drexel University Persian Student Association. Nowruz, or "new day" in Persian, is an ancient festival marking the start of Spring. Celebrate the Persian New Year with friends and family and learn how the holiday is observed by people in the Middle East, Asia, Africa, and beyond.

Muslim Kings of Comedy – World Café Live

One half of Philadelphia's own 'Kindred The Family Soul', DJ DK aka Fatin Dantzler will be spinning the tunes at the Muslim Kings Of Comedy event. Organized by Philadelphia comedian Moses the Comic and Haverford College professor of religion Guangtian Ha, along with Haverford College students, The Muslim Kings of Comedy show is a groundbreaking comedy event with a lineup featuring the top international Muslim comedians in the halal industry.