SHOP PENN Playlist for July
Summer isn't just bringing the heat, it's bringing the live events! University City is filled with standout galleries, performance spaces, and recreational venues that are open to visitors. Discover the exciting happenings in the neighborhood this July with the latest edition of the "Shop Penn Playlist," a snapshot of cultural and entertainment offerings around the Penn campus all month.

Thor: Love and Thunder – Cinemark University City Penn 6
Opens July 7

The latest installment of the Marvel Cinematic Universe hits the big screen this July. Thor: Love and Thunder is the fourth installment of the Thor series and the direct sequel to Thor: Ragnorak. The film is directed by Taika Waititi and stars Chris Hemsworth, Tessa Thompson, Natalie Portman, and Christian Bale.  Grab your concession snacks, sit back in the AC, and enjoy the show in 3D.   

Fire Museum Presents: Brandon Lopez/Gerald Cleaver Duo & Toned – The Rotunda
July 8

Brandon Lopez works at the fringes of jazz, free improvisation, noise and new music. This collaborative powerhouse never lets up with Gerald Cleaver who is among the most agile and wide-ranging first-call musicians on the 21st century jazz scene. Toned pits the fiercely analog, animalistic saxophone of Tom Weeks against the crushing digital precision of Nathan Corder's eminently mutable networks, alongside the poly directional structures of Leo Suarez's approach to percussion, all while maintaining a driving, rock-hard musical synthesis – following in the tradition of Roscoe Mitchell's encounters with George Lewis' Voyager, Bay Area legends The Hub and Possessed, and the brutally technical compositions of Disgorge.

Puerta Abierta Summer Music Series: Jibaro Con Tumbao – World Café Live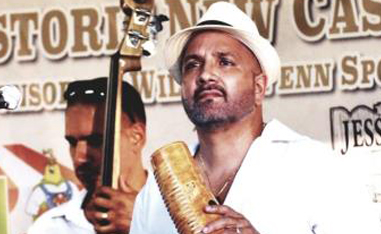 July 9

Puerta Abierta is a new series from World Cafe Live centering and celebrating the diasporic sounds of Latinx culture. Jibaro con Tumbao was founded in 2012 by its leader, vocalist Miguel Orlando, along with Tres player Rolando Rivera. Two years later, Arranger, Producer and Bass Player Mike Colon joined as Musical Director. Keeping caribbean music alive in the Delaware Valley is at the heart of the group. Repertoire consists of tropical music with a pinch of Cuban flavor.

Penn Relays Summer Showcase – Franklin Field
July 9

The Penn Relays Summer Showcase returns to Franklin Field this summer! The day will begin at 5 p.m., spreading across four hours of five different individual track events including the 100m dash and the mile run. The event is open to all ages with heats being created according to competitive times.

A Taste of the Culture: Uncle Nearest Whiskey Dinner Pairing – World Café Live
July 12

World Café Live invites you to join them for the inaugural event to kick off the "A Taste of the Culture" live experience. In this new series, A Taste of the Culture Founder Sean McCloud will join World Cafe Live Executive Chef Rob Cottman to explore Black-owned wine and spirits expertly paired with an exclusive coursed menu. This first event will feature Uncle Nearest Premium Whiskey with special guest regional Market Manager John Boccino. Whether whiskey is already your go-to drink or you are brand new to the spirit, this night is guaranteed to make you have a new appreciation for the flavor and an understanding of the rich history behind this unique brand. The evening will start with a welcome cocktail featuring the 1884 Small Batch Whiskey then three savory individually paired with tasting pours and curated cocktails followed by a dessert course.

Christina Perri – World Café Live
July 20

Christina Perri is an American singer and songwriter. After her debut single "Jar of Hearts" was featured on the television series So You Think You Can Dance in 2010, Perri signed with Atlantic Records and released her debut extended play, "The Ocean Way Sessions". Her debut studio album, "Lovestrong" (2011), followed soon after and has since been certified platinum by the Recording Industry Association of America (RIAA). Perri gained recognition for writing and recording "A Thousand Years." The song sold over 10 million copies in the US.

A Taste of Bygone Booze Tour and Beer Tasting – Penn Museum
July 23

Drinking together has been a tradition for thousands of years. Let Penn Museum be your designated driver as you explore how our ancestors partied like it was 5000 BCE. Join archaeologists to discover ancient beer and wine recipes, learn about modern day brewing techniques, and uncover ways that drinking culture has changed over time. At the tour's end, grab a beer from the Museum Café: have a taste of Flying Fish Exit 3 Blueberry Braggot—a beer that tastes very similar to an ancient recipe discovered by a Penn biomolecular archaeologist.

Beta Hi-Fi Music Festival – World Café Live
July 26-29

Beta Hi-Fi is World Cafe Live's FREE multi-day emerging music festival featuring some of the Philly region's best new artists! Each night, three hand-picked artists will perform a 20-30 minute set to a rotating panel of judges from the Philly music scene. The winning artist from each night will return Friday to compete for cash and other career-boosting prizes. Beta Hi-Fi serves as a showcase for industry professionals and fans alike. Whether you're an artist, friend, family, or just a music lover, come hang out and discover new music! The World Café Live restaurant opens at 6pm for drinks and dining, and admission is free.

Lady Alma Birthday Show – World Café Live
July 30

The second installment of Gimme That Music at World Cafe Live is here.  The month of July represents freedom, celebration, and independence.  Lady Alma, accompanied by Philly's own Vertical Current performing high-energy Jazz-House fusion sounds from her hand-selected catalogue on her birthday weekend. Vertical Current is an extraordinary international award-winning band with a history of complimenting Philadelphia's musical royalty. Lady Alma wants to share a special performance with her long-time supporters on this occasion.

Summer of Swings – Morris Arboretum
All Month

Morris Arboretum invites you to explore the new seasonal exhibit, Summer of Swings. Visitors of all ages can experience the Arboretum in a totally new way—while perched on one of 10 swings placed strategically across 92 acres. Play on the swings, try some cool physics experiments, and just have fun!