Pret A Manger
Pret A Manger is a worldwide sandwich and coffee shop that creates fresh, handmade sandwiches, salads, and wraps in-shop each day using natural, preservative-free, ethically sourced ingredients.
Founded in London in 1986, the two cafes located in the iconic Jon M. Huntsman Hall in the heart of the University of Pennsylvania campus are Philadelphia's first Prets and the first located on a college campus.
Menu items might include: Balsamic Chicken & Avocado Sandwich, Avocado & Roasted Corn Salsa Flatbread, Butternut Squash & Ricotta Mac & Cheese; Turkey, Ham & Wisconsin Cheddar Hot Baguette; Miso Sweet Potato Bahn Mi Baguette; Turmeric Tofu Balance Box; Falafel & Beet Hummus Power Pot; freshly baked croissants; chocolate brownies and warm chocolate chunk cookies (perfect with Pret's organic coffee and teas).
The first Pret A Manger in Philadelphia
Cash, credit, checks, Dining Dollar$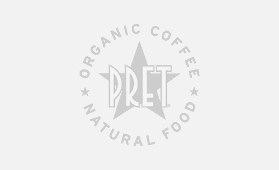 Address
3730 Walnut Street
Huntsman Hall
Philadelphia, PA 19104

N/A
Store hours
Mon. – Thurs., 7:30am-9pm
Friday, 8am-4pm
Saturday-Sunday, 8am-4pm
(Hours vary so, please check our website for current hours.)