&pizza
What pizza should be.
&pizza is a different kind of pizza shop. We offer unique, unexpected flavors with our signature oblong-shaped pies, known as "The Hits" - think pepperoni and hot honey, mushroom and grilled balsamic. For just about $11, guests can "walk the line" and craft their own pie with unlimited toppings to choose from, or put their own twist on one of our Hits. Our pizzas are done in just about three minutes, so it's perfect for students on the go. 
As with all our shops, the University City shop was designed to reflect the unique vibe of the surrounding community. Inspired by the Schuylkill River, the new shop features a light sculpture on the ceiling that wraps onto two walls and peels back to reveal artwork underneath.
Popular picks include: The Farmer's Daughter (spicy tomato, spinach, mozzarella, Italian sausage, egg, red pepper chili oil, parmesan), the Gnarlic (garlic ricotta, mozzarella, grilled onion, basil pesto, garlic oil, parmesan) and the OG (classic tomato)
Cash and all major credit cards.
Late night eats, create-your-own, craft beverages, fast service, made-to-order, good for groups, gluten-free options, online ordering.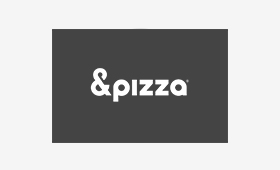 Address
3925 Walnut Street
Philadelphia, PA 19104

267-969-3584
Store hours
Sunday-Thursday: 11am-11pm
Friday & Saturday: 11am-3am