New Deck Tavern
A little bit of Ireland in University City.
Known affectionately as "The Deck," New Deck Tavern has been raising the charm quotient associated with the retail and restaurant corridor along Samson Street since 1986. The traditional American restaurant and Irish pub is housed within three renovated second empire style row houses built in the late 1800s, and is beloved first and foremost for its friendly and inviting atmosphere. Close runners-up? The burgers (don't miss The Hickory, with cheddar, Monterey jack cheese, bacon, BBQ sauce, and crispy fried onion straws), the homemade soups and salads, and a variety of popular sandwiches. (Philly cheese steak, anyone?)  
New Deck also serves an impressive array of draft beers from around the world, offers 28 beers on tap, and holds the keys to one of the largest single malt scotch collections in Philadelphia. Even if it weren't conveniently located around the corner from the University of Pennsylvania's law school, the Annenberg Center for Performing Arts, Franklin Field, the Palestra, the Children's Hospital of Philadelphia, and the Hospital of the University of Pennsylvania, surveys say New Deck would be full to the brim.  
A European draft beer system imported from County Cork, Ireland gives New Deck reason to claim rights to Best Pint in the City!
Cash and all major credit cards
Happy hour, draft beers, drink specials, Quizo, live music, karaoke, wing night every Tuesday, outdoor seating, good for groups, take-out available.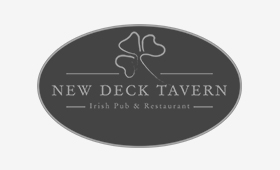 Address
3408 Sansom St
Philadelphia, PA 19104

215-386-4600
Store hours
11:00am – 2:00am daily (except for Sundays; 11:00am-12:00am)
Happy hour Monday-Friday 5pm-7pm