Avril 50
An eclectic shop for all those who appreciate a premium selection of chocolate, coffee, tea, and cigars alongside no shortage of good reads.
Part coffee shop, part international press, and part purveyor of avant-garde art magazines, postcards, premium cigars, tobacco products, and imported chocolates, Avril 50 needs more than 150 words of marketing copy to do it justice. To truly experience the local landmark, swing over to Samson Street and go introduce yourself to the man behind the counter.
Penn Alumni John Shahidi pulls a mean espresso and has been enchanting the University City community with treasures from his travels for over 30 years. You won't find anything commonplace here – John specializes in sourcing the atypical, from the vast array of loose leaf teas to the wide variety of obscure magazines from all over the world. Every nook and cranny holds another gem: a to-die-for European chocolate, a cigarette brand you'd be hard-pressed to find elsewhere, a unique collection of cards. Grab your latte and make yourself at home.
A Philadelphia favorite for niche publications and magazines, fine cards and postcards, gourmet coffee and tea, exotic cigars and tobacco products, and imported chocolates and confectioneries
Cash and all major credit cards
Philadelphia Magazine "Best of Philly" award-winner, outdoor seating, coffee and news from around the world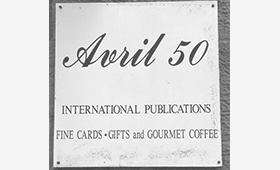 Address
3406 Sansom Street
Philadelphia, PA 19104

(215) 222-6108
Store hours
Monday – Friday: 7:30 AM – 6:00 PM
Saturday: 10:00 AM – 5:00 PM
Sunday: 10:00 AM – 5:00 PM